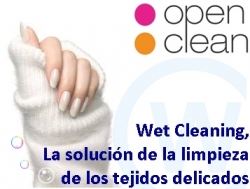 wetcleaning Open Clean. Tecnología ecológica
Wet cleaning concept_ Open Wet Cleaning!

Wet Cleaning is widely recognized as one of the most environmentally friendly options available today
Wet cleaning is the safest garment cleaning alternative method to traditional dry cleaning, utilizing gentle washing machine, biodegradable soaps and conditioners, and various types of pressing and re-forming equipments that may be specialized for many different fabric and fiber types. The most important aspect of successful wet cleaning is expertise and knowledge of an operator. Wet cleaning technology is not something new. It has been around for thousands of years, it only has gotten better with easier-to-operate equipment and improved specially formulated detergents.

Benefits of Wet Cleaning
- No Chemical Odors and No Residue
- Gentler than Hand Washing, Fresh, Clean Scent
- Soft to the Touch
- Kind to Sensitive Skin
- Safe for your Clothing
- Better for Removing Stains
- Milder than Home Laundry Products
- Brighter, Vibrant Colors Without Fading
- Whiter Whites
- Gentle on the Environment
---
Solution of cleaning delicate textiles
Protect your environment